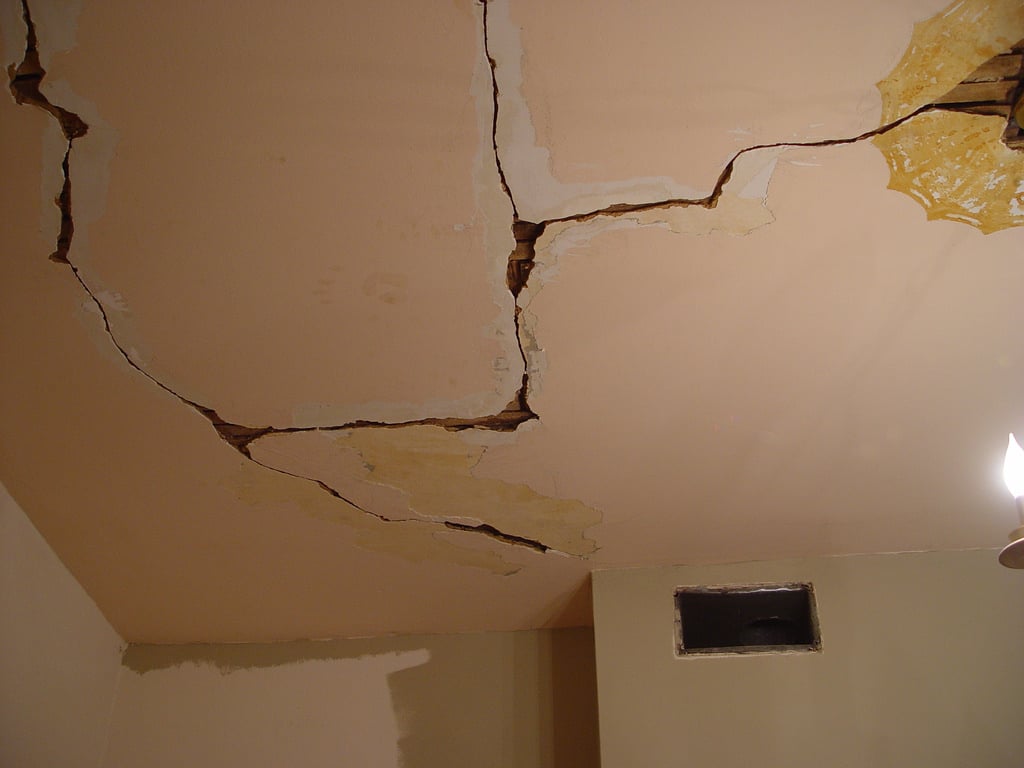 Ceiling Cracks Offer Important Clues about Your Foundation
Ceiling cracks plague many homes in Plano, Texas, and the surrounding Dallas area. At best, they look unsightly. But at worst, they could flag an issue with your home's foundation. So what's really causing those cracks in your ceiling? And perhaps most importantly, what should you do about them?
Types of Ceiling Cracks
It's important to educate yourself about the different types of cracks and their causes to avoid costly repairs down the road.
Knowing the difference between the types of ceiling cracks can save your home. First, it's important to realize that all homes will move over time. This movement results from several factors, which we discuss later in this blog. However, cracks usually occur as the byproduct of one of two things:  natural aging or structural damage. Here are some of the most common cracks and what they can reveal.
"Spider Web" Cracks
These cracks have a center point and then spread out in different directions. The good news: these cracks are a regular part of settling and can occur in ceilings, walls, even floors. However, when it comes to spider web cracks, size matters. If the cracks are small, there isn't much to get anxious about. On the other hand, if they are more than 1/16 inch wide, there could be a more significant structural problem.
Matching Vertical Cracks
Those cracks which run across the length of a ceiling and then continue down a wall along the same line point to structural damage, likely connected to a weak wall stud or something that was knocked loose in the settling of the home over time. Once again, size is relevant here.
Cracks along the Edges
Cracks along the edges of walls are usually the result of normal settling. You don't have to be hyper-vigilant about these, but as a precaution, it's a smart idea to mark where they start and finish so that you can monitor any growth. It's those cracks that run across the entire length of the ceiling that can signal trouble. In these extreme cases, one or more foundation adjustment services may be necessary to avoid further damage and dangerous instability.
Causes of Ceiling Cracks
What causes cracks in ceilings? Now that you're informed about the primary kinds of ceiling cracks, let's take a look at some of the causes and how they impact your ceilings.
Moisture
One of the most common reasons is massive moisture damage from above the ceiling. Depending on which floor of your home you're talking about, this could mean moisture has seeped into the floor above the ceiling. If it's the upper level of your home, this may point to damage to the roof. Other sources may include plumbing leaks from the floor above. Significant changes in temperature can lead to cracks. As the air warms, building materials in your home will expand because they are exposed to excess moisture. Conversely, as the temperature drops, they will contract. Switching between hot and cold can put stress on the ceiling materials and joints, and lead to cracking.
Too Much Weight
A cracked ceiling either has another floor or attic space directly above it. So it's entirely possible that the area above the ceiling is carrying too much weight. Prime examples are upper-level bathrooms; they need specific ceiling supports to bear the heavy weight of fixtures. Shortcuts taken during construction could lead to sagging or cracking.
Inferior Foundation
What do cracks in the ceiling mean for the future of your home's foundation? A substandard foundation can cause a variety of structural problems, including damage to the ceiling. Remember this: the integrity of the foundation affects every component of your house. The minutest movement or settling in the foundation can alter load-bearing beams and cause small or large cracks.
Contact Align Foundation Today
Cracks in the ceiling aren't just ugly to look at. They might also mean your home's foundation is at risk. When in doubt, contact the foundation repair experts at Align Foundation Repair. We know when a crack is a minor aesthetic problem and when it could be something more serious! If you would like a free professional evaluation and estimate of your foundation in the Dallas/Ft. Worth area, contact us today and ensure a solid foundation for the future of your home.